Well, it's nice to be back. The holidays are nice and all, but during all that rest and relaxation it appears that I forgot about this little soapbox of mine. Considering that I am now up to 7 subscribers, one billionth of the human population mind you, I feel as if I should keep the content flowing. 
With the end of the year comes a literal flood of top ten lists. From the top ten music albums of the year to the top ten funny things done by a chimpanzee, people will make a list about fucking anything. Being that I want to be a part of the party I will do a top ten list as well. Expect a top five videogames list later this week (videogames are much more expensive than movies so I have experienced less of them). But that is later this week, right here, right now is the time for my top ten movies of 2011. 
10. Crazy, Stupid, Love
                                          
Call me a girly man (actually don't, my feelings are very tender) but I just loved this movie. I'm a guy who usually hates romantic comedies and when I was taken to this on a date towards the end of the summer I can't say I was looking forward to it. Luckily I was surprised by the smart jokes and very good writing that I found within it. Even though it is kind of cliche towards the end, Crazy, Stupid, Love has just enough charm, jokes, and intelligence to separate itself from the army of romcoms out there and take its spot as my number ten movie of the year. That legitimately great plot twist didn't hurt either.  
9. Source Code
Duncan Jones's first movie Moon was an amazing sci-fi, one good enough to put the young director onto my 'will watch any movie he makes' list. When I first heard of Source Code, the premise certainly sounded fascinating, and once I heard Jones was directing it it became a must see for me. While it does not live up to Moon, Source Code is still an amazing sci-fi thriller. This type of movie, which blends science fiction and romance so well, is hardly made anymore. Despite the silly final few minutes, Source Code is the finest crafted sci-fi drama since Inception, and has kept Duncan Jones on my list of directors to keep an eye on. 
8. Super 8
Super 8 is a movie that I love simply because movies like it just are not made anymore. The atmosphere, childish wonder, and the heart in the movie is something right out of a mid-eighties Spielberg flick. It is perhaps even more amazing that Spielberg didn't even direct it, instead JJ Abrams injects his own style to the Spielberg framework, making for a fantastic movie. Super 8 takes me back to the days of sitting in my big brother's room after my bed time and watching ET with him, or Jurassic Park, or First Encounters… you get the idea. These moments of my childhood shaped how I view movies today and the fact that Super 8 can transport me back to those early formative years so effectivley makes it an easy pick for the number eight position. And it's named Super 8… get it? 
7. Bridesmaids 
Bridesmaids, like Crazy, Stupid, Love was a movie I thought I would hate given its trailer which tries to play it off as the raunchy comedy women 'wanted' for years. As it turns out, it is exactly that. Yes, Bridesmaids is raunchy and stupid in parts. I mean, there is a poop gag with food poisoning for god sake! But that stupidity and the raunchiness is done so… intelligently that it works. Kristen Wiig gives a terrific performance, but she is also helped by a superb supporting cast. The smart writing and great comedic performances help Bridesmaids be more than the Hangover for girls and gives it the number seven spot on my list. 
6. The Descendants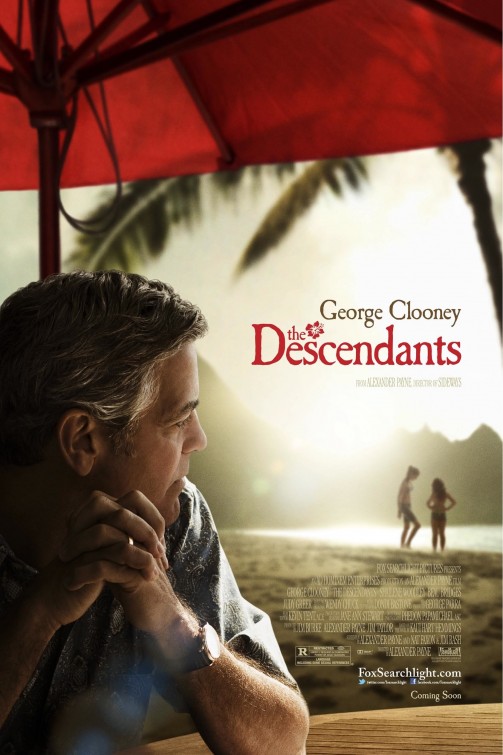 The Descendants is an Oscar bair movie, clear and simple. However it would also be unfair to describe this film in such simplistic terms. Yes, it is complete Oscar bait, but it is also made with a heart to it that these kinds of films typically miss. George Clooney and Shailene Woodley are great, but the true greatness of the movie comes from the clear devotion of the entire cast and crew to it. Without that heart at the core of the movie it wouldn't have been half as good as it is. As it stands now however, the Descendants is an expertly and lovingly crafted family drama and fully deserves its spots as the number six movie of 2011. 
5. 13 Assassins 
13 Assassins calls back to an era of film-making gone by, however the movie also works two-fold; it acts not only as an homage to classic samurai films but it also moves the genre forward. 13 Assassins is an extremely entertaining movie with its interesting characters and powerful themes. It also helps that it features the best action scene of the year, a 45 minute romp where the titular 13 assassins take on literally hundreds of guards in bloody mortal combat. 13 Assassins is bloody, engaging, and the fifth best movie of the year. 
4. I Saw the Devil
Over the past few years South Korea has experienced something of a renaissance with its film making. From the bombastic and silly the Good, the Bad, and the Weird to the violent and powerful Oldboy, Korea has really come into the global market as a world leader in film. I Saw the Devil stands alongside these and other great films the country has put out the last half-decade. It is as violent as Oldboy, but also has a more restrained side to it. The game of cat and mouse between killer and victim in the movie is one of the best ever put to film, supported by stellar acting from both its leads. I Saw the Devil may not be a movie for those of us with weak stomachs, but it is still one of the best movies Korea has put over its recent renaissance and will rightfully take its place among the country's greats. 
3. The Girl with the Dragon Tattoo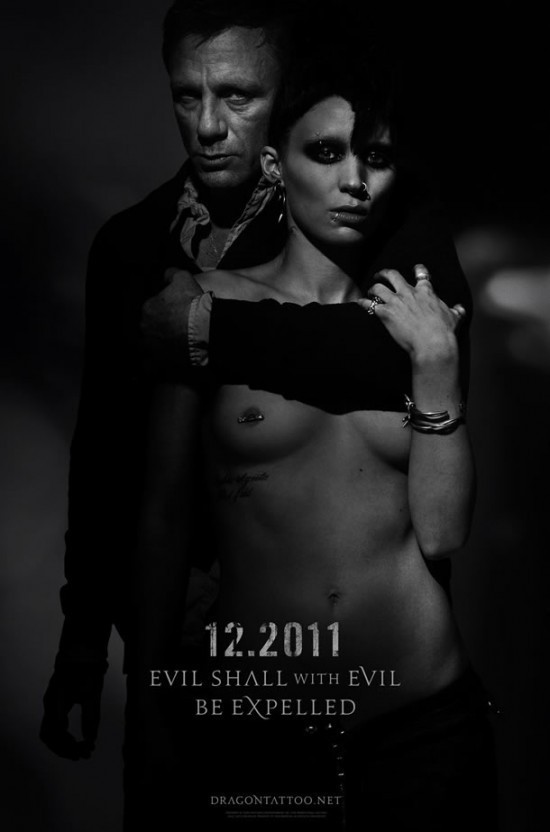 The Girl with the Dragon Tattoo is a movie that just oozes style. From the opening title sequence to the end credit crawl, Fincher's stylistic touch permeates each shot. The Girl with the Dragon Tattoo is not without substance as well. The themes of the novel are ever present in this adaptation and are executed very well and the central mystery of the film is genuinely compelling and has a pretty great payoff. Rooney Mara carries the film on her shoulders in her spectacular performance as Lisbeth Salander and it will be a crime if she doesn't get a best supporting actress nod. Trent Reznor and Atticus Ross's score is also deserving of an Oscar as it is one of the finest original scores of the past decade. It is a shame the film looses a bit of itself at the very end, however, the performances, Fincher's style, and Reznor and Ross's score add up to outweigh the very few bad parts of the film, making it one of the best of the year. 
2. Midnight in Paris 
Midnight in Paris is a comedy that appeals to the intellectuals out there while also maintaining enough of a genuinely funny core that almost anyone can laugh at it, even if you don't know who Gertrude Stein is. Its poignant themes about nostalgia and how everyone views the past is one of the more powerful this year, and the emotional side of the plot is carried effortlessly by Owen Wilson in his all time best performance. Quite simply, Midnight in Paris is a beautifully shot. expertly made comedy and is one of the best movies of this year.  
1.Drive 
Drive is just… so goddamn good. From the soundtrack, to the acting, to the story, to the themes, and especially the style. Right from the outset this film sucked me right into its world with a fantastic chase scene and fascinating premise. Drive kept me in its grasp for the next two hours, mostly due to the fantastic style of the film and the ways it referenced genres of films gone by, everything from LA car movies of the eighties to samurai flicks out of 60's Japan. No other movie this year was like Drive, in fact, no other movie is like Drive. Despite the influences it took from films past, Drive is a movie the likes of which I have never seen before; it's ultraviolent, stylish, has an amazing soundtrack, and is the best movie of the year. 
Note: I have not seen Tinker, Tailor, Soldier, Spy, Attack the Block, My Week with Marilyn, the Artist, Shame, or Mission Impossible: Ghost Protocol yet. If and when I get around to seeing these movies I may make some special adjustments or notes to this list.